Moroccos Surf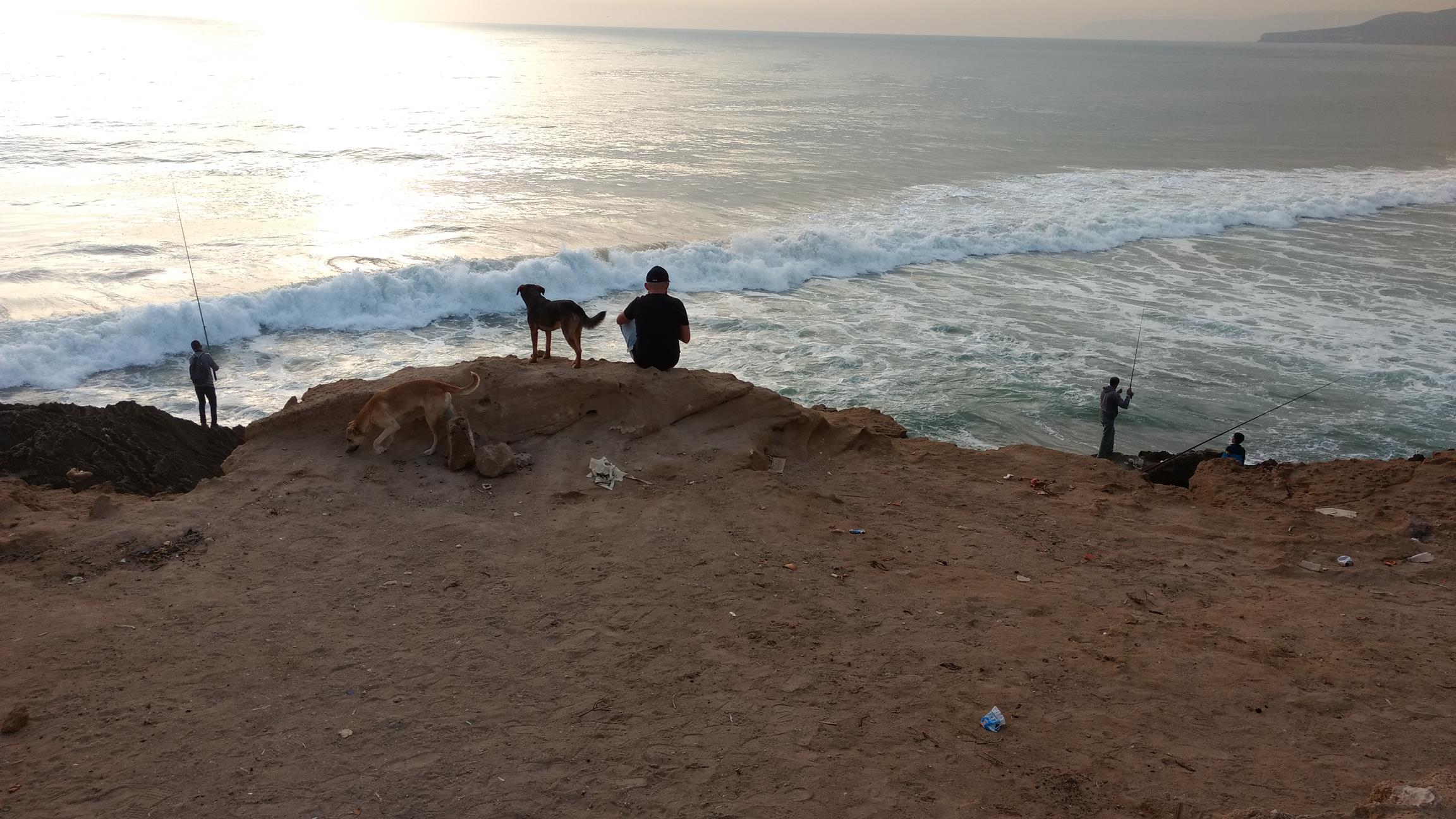 During our stay in Agadir we booked a week of surfing at www.surflevelmorocco.com. This was the cheapest provider and did not give the impression of "mass processing" the paying tourists. In retrospect, this was the perfect decision! Our coach Yassin Iddouch is one of the best surfers in Morocco, champion in bodyboarding and a perfect host. His accommodation offers everything you need for a week of surfing: Comfortable beds, a balcony with a sea view and a pool to cool off in the evening.
Yassins living room
Blue clothing means Berber, I'm on the left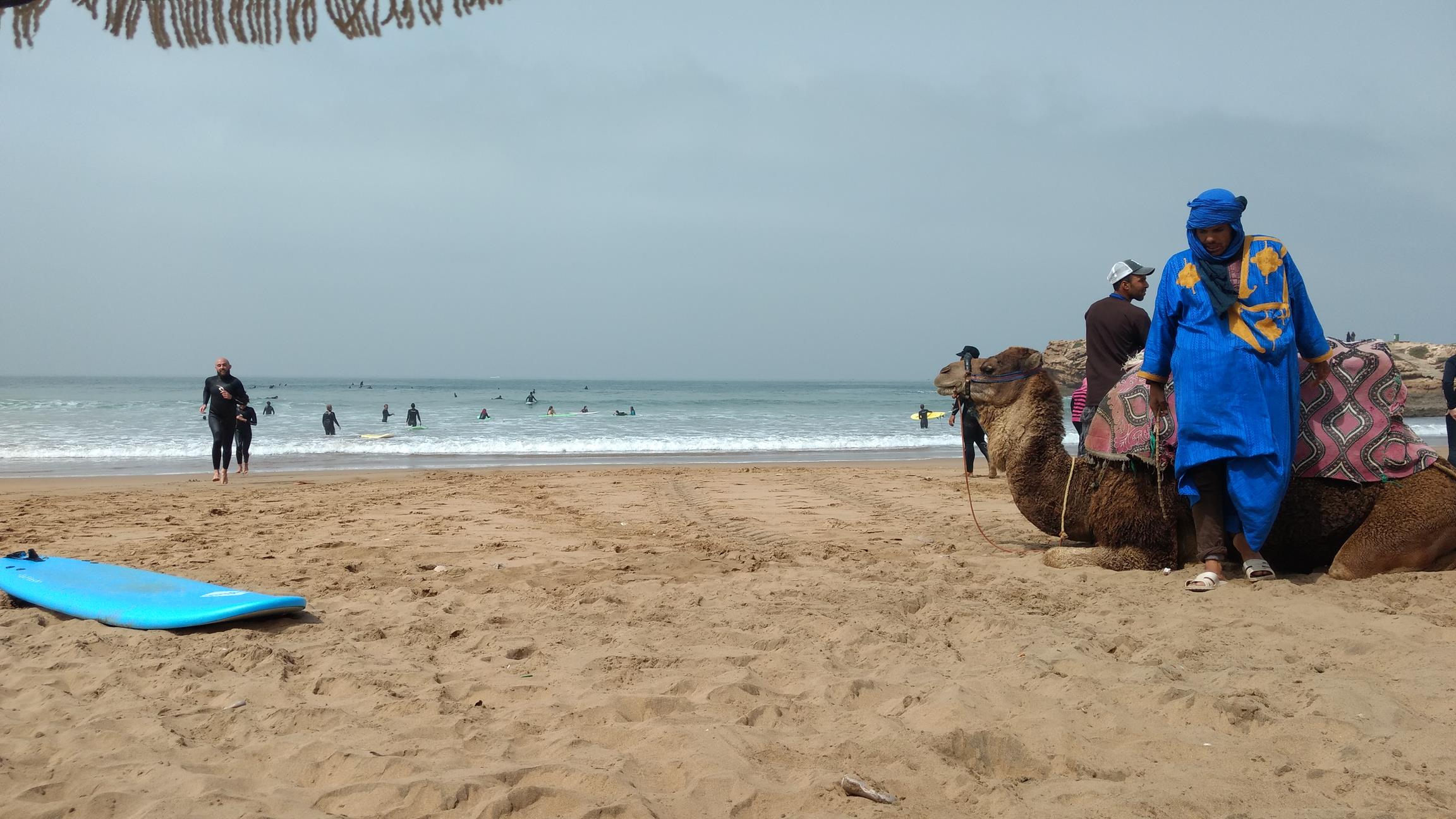 Furthermore, we were lucky and Tes and I got along with the other two guests (a young mum from London and her daughter) tremendously from the beginning. I spend the week goofing around with the eleven-year-old Fajina – the perfect diversion to the daily dose of learning to surf. After all, it was my first time on the board. Due to the good teacher (and maybe some skateboarding experience) I was even able to ride some small waves within the first few hours.
Somewhere on the beach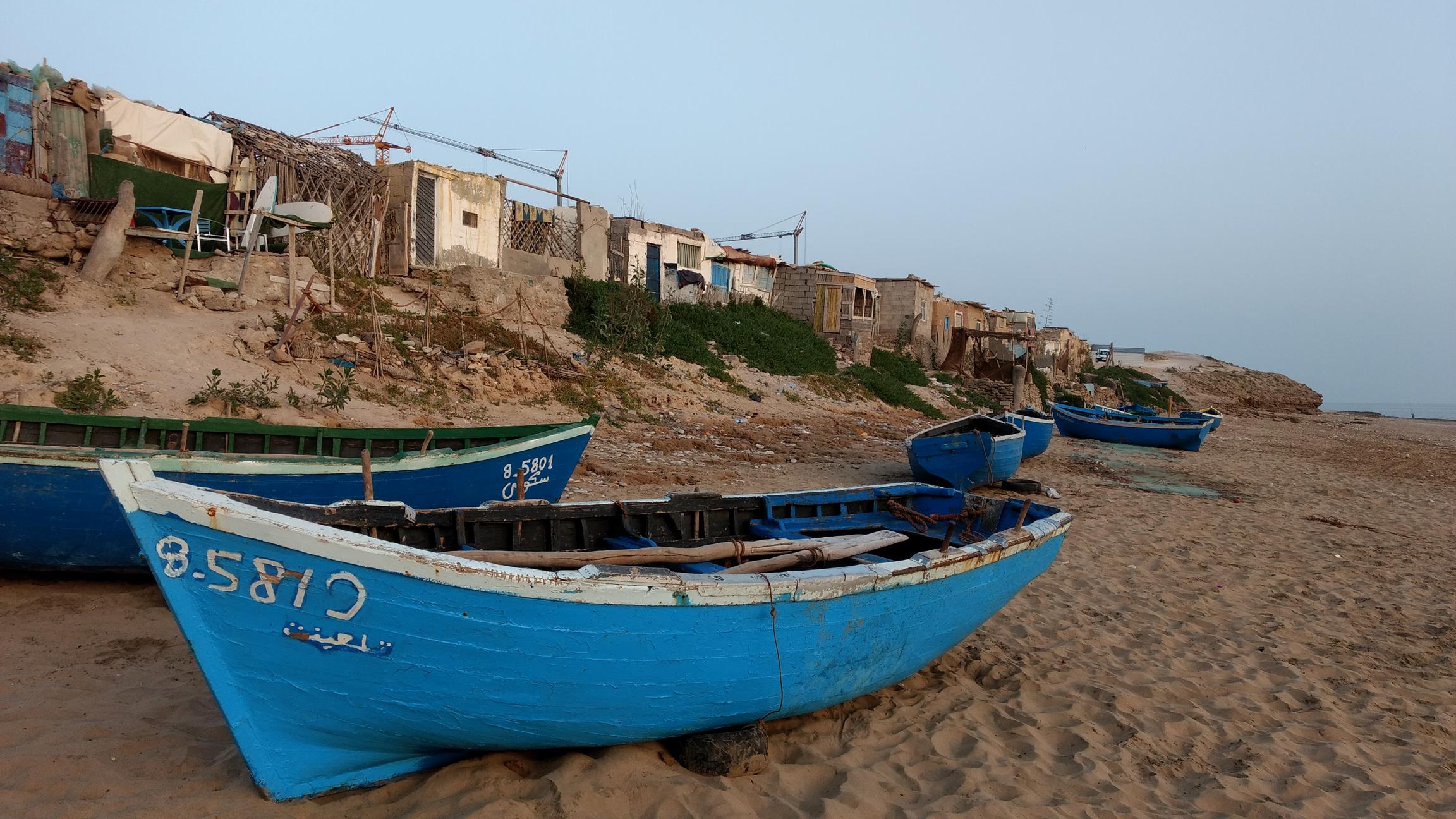 Daily Routine
Our daily life was having breakfast, loading our boards and wetsuits into the car and driving off to one of the countless spots nearby. In the picture below for example Anza Beach:
We then spent our time at the beach and ate a prepared sandwich for lunch. Before returning home in the afternoon, we stopped at a small cafe in Tamraght.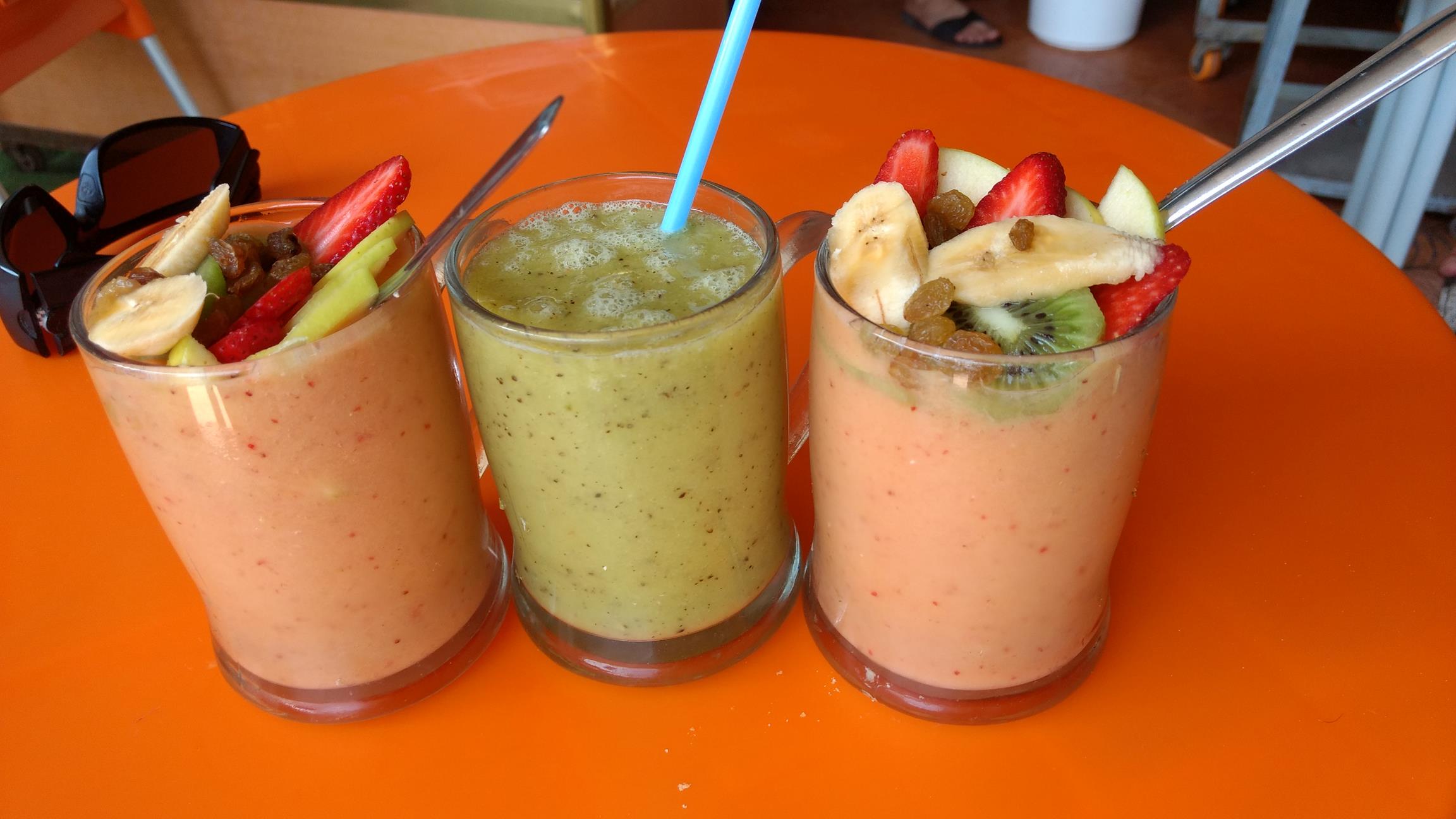 Everybody ordered a freshly pressed juice, and we relaxed for a while. Afterwards we went home, showered and enjoyed the Moroccan dinner. Aysha cooked a Tajinn for us every evening right outside the front door:
Dinner in Morocco: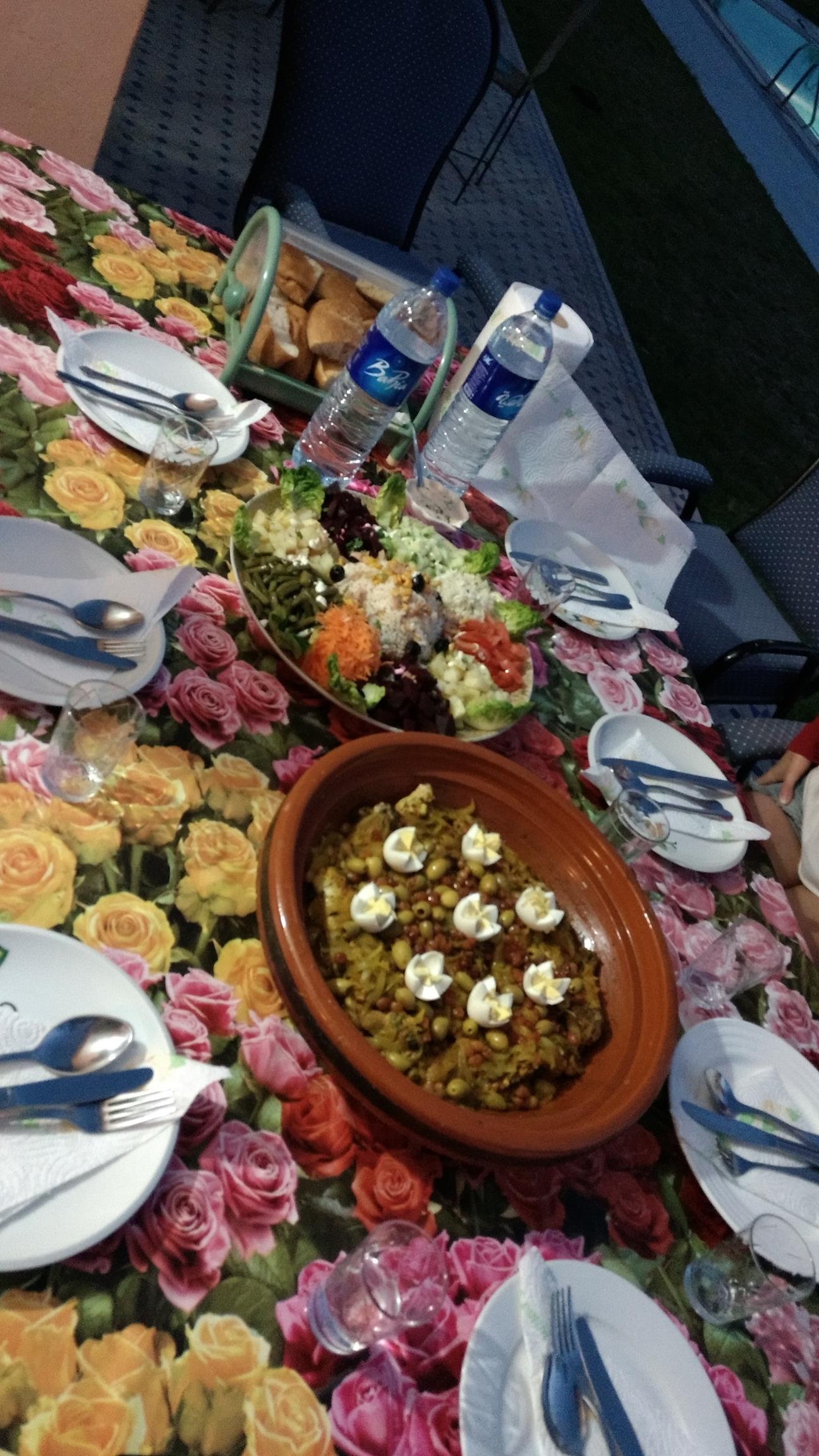 Moroccan style spa: Hamam
To loosen up the program we made two excursions with Yassin. First, he took us to a Hamam – an oriental steam bath, also called Turkish bath. There were three tiled rooms, all heated to different temperatures. For the entrance fee you got soap, a washcloth and two buckets (to fill with warm or cold water). After changing you spend your time sitting in the foggy room, relaxing and washing yourself. If you wanted, you could pay someone to wash/massage yourself. In general, the whole thing was a new experience to me. You sit or lie on the warm floor and shut off. You can literally feel your muscles loosen up and relax. If there hadn't been half dozen Moroccans talking loudly right next to me, I would have fallen asleep. An hour in the rooms seemed to me at most like half an hour – highly recommendable!
The second excursion brought us to Paradise Valley. This place really deserves its name. But first, check out some pictures:
Paradise Valley
It takes about an hour by car from Taghazout to Paradise Valley. The ride is breathtaking and there are countless opportunities to stop at the road side and take a few pictures. Still, the valley is difficult to find without a local, as there is only one small sign showing the direction.
In any case, the effort pays off! You park at the road side, costing 10 Dirham (1 Euro). Then you walk off into the wild. The path is not very well-developed and you have to jump over streams, balance on stones or go down steep slopes.
On the other hand – after a fun 45-minute hike – you get  a wonderful sight and a place to cool off! Over the years, a natural pool has formed in the valley. It's filled with cold, clear spring water and there is a natural diving platform – one from about two meters and the other from about eleven. We swam through pool and explored the valley by foot. It's incredible! Until midday there is also little activity and lots of space. In the afternoon, more and more locals arrive and the place gets crowded.
The Buses in Morocco
After our week of surfing, Yassin drove us to the bus station of Agadir, and we got on a bus to Essaouira. When riding a bus in Morocco it is important to use the bus company "CTM" (if possible). You can buy the ticket in advance at the counter, but they charge you a small fee for each piece of luggage (5 Dirham) before departure. For this, the luggage is tagged and only handed out after showing a voucher – this way it cannot simply "disappear". In addition, this bus company sticks to specified times.
Somewhere on the road
One time we used another company and were told the ride would take about five hours. In reality, it took eight – because we stopped in every small village. Sometimes traders, tea sellers and storytellers marched through the bus, and we didn't use the highway – because this costs extra. In general, domestic travel is cheap. The ticket from Agadir to Essaouira was 75 Dirham (7,50 Euro) – that's more than okay for a trip of almost four hours.
The kittens lived next to the cafe in Tamraght
More about Essaouira in my next post. One thing upfront: It´s one of my favorite stops in the country.
C-L