Why Morocco?
After we had returned home from London, Theresa and I didn't know what to do. We had sold or given away all our belongings and didn't have an apartment, car or furniture. Everything I owned at that time was packed in two suitcases. What would you do? We decided for a vacation and discussed Central and South America, as well as various countries in Africa. In the end, we decided to visit Morocco. After all, the living cots is very cheap, the sun shines almost ever day and I already had gathered some experience through a previous visit. In the picture above, you can see Tes and me at the market drinking tea with a local, who lured us into his shop with his pets.
In the port of Agadir
We booked a one-way ticket to Agadir and a hotel for three days. All other steps on our tour would be planned on site. Ultimately, we spent seven weeks on our trip. It was a wonderful stay, despite some setbacks – mostly due to the mindset of some Moroccans. In particular older locals sadly have the opinion that Europeans are endlessly rich and that money is irrelevant to us – after all, we have an infinite amount, they think.
Somewhere in Agadir

The problem with the mentality
After a four hours flight (from Munich) we arrived at the "Al Massira" airport, about 25 km from Agadir. The cost of the cab ride from the airport to Agadir is state-determined and is 200 Dirhams (approximately 20 euros). However, I am aware that this is pure usury – it shouldn't be  more than 10-13 euros. Despite my attempt to bargain, we paid 25 euros, as nobody wanted to take us for less money. I was even told that the fixed rate had been increased (a brash lie). Unfortunately, this mindset is deeply rooted in some Moroccans, especially the older ones. However, these are individuals and their belief should not be generalized to the population. Most of them are very nice, helpful and courteous.
A visit from a ladybug
Agadir
After a 30 minutes ride, we reached the city center of Agadir. The town has about 600,000 inhabitants that live mostly from tourists, mining, art handicrafts and fishing. In the 1960 the city was destroyed by an earthquake, that shattered almost all historical buildings. That's why there is not much to see and tourism is designed for swimmers and water sports enthusiasts. In addition, there is (as in every city) a huge range of guided tours to the most beautiful spots of the kingdom.
The beach with its fine sand
Through my previous visit to Agadir, I was aware that there was not much to do in town. The three days to acclimatize were sufficient. We spent them at the beach or strolling along the promenade.
Sunset at the beach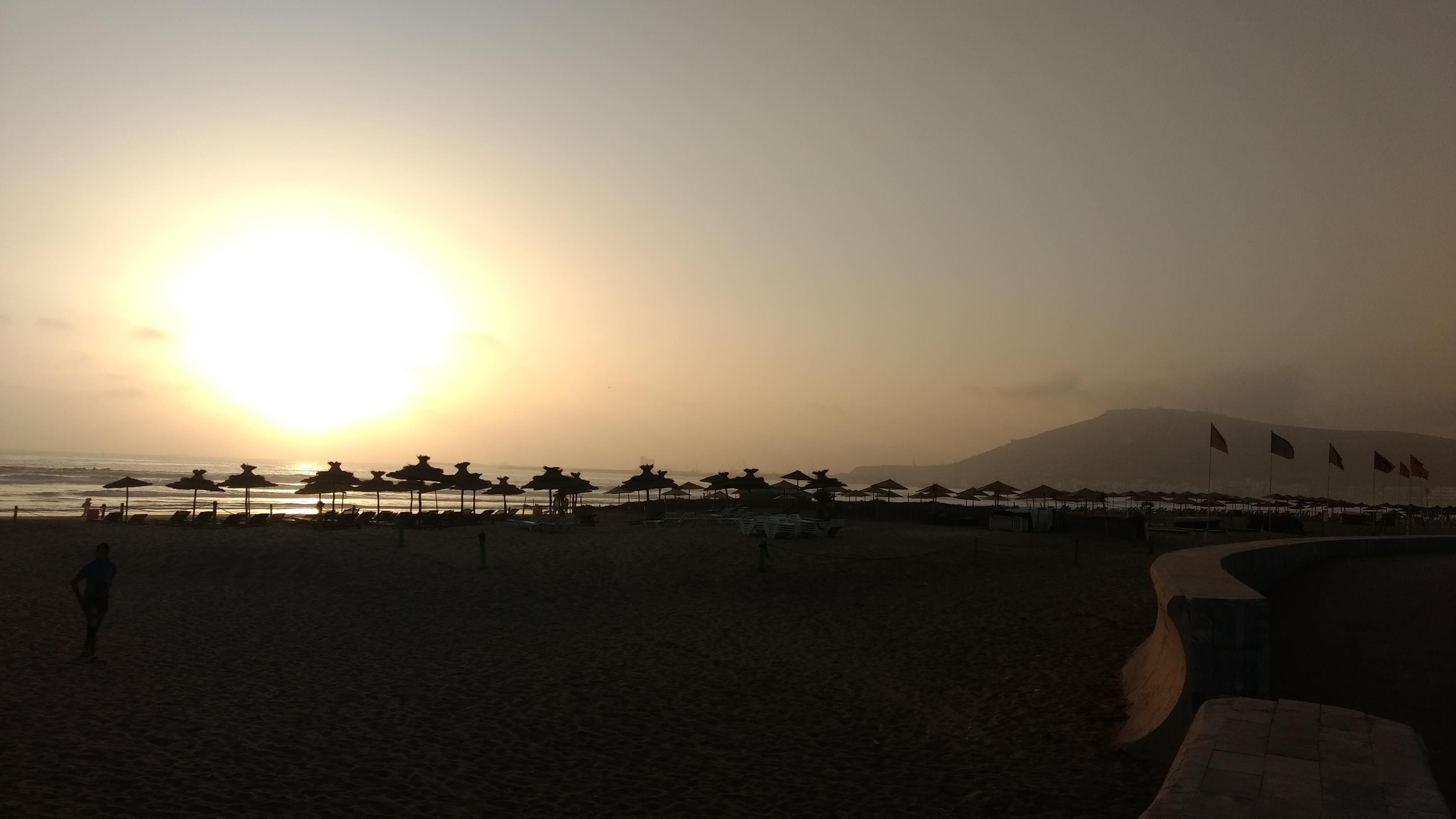 Anyone staying in Agadir should visit the souk (the market). You can buy fresh fruit and handcrafted souvenirs at a much cheaper price than at the beach. The smell of spices and fruit is omnipresent, you are often invited to tea or product tasting and one in two merchants explains what kind of spices have an effect on virility, blood pressure, etc. – this often leads to funny conversations, you get a small gift, a recommendation for evening activities or learn about the life of Moroccans.
Discovered on the way to the souk – Meow!

Bargaining – crucial in the country
When you visit the country, keep in mind, you have to bargain for almost everything you buy. It is part of good manners and if you don't do it, you lose the salesmans respect and a lot of money. You also should always ask for the price before you pick something up. The quoted cost can then be reduced to a quarter or a third; usually and with the appropriate skill and a little practice. After some time, this becomes fun.
The butcher in Morocco
In order to avoid frustration, you should always ask yourself before completing a deal: "Is the product worth the price". A little knowledge of Arabic can also help you get better prices. Only a greeting in the local language can work wonders. In addition, in Morocco its always the man who talks – the woman only when asked. We had a situation when buying bread: On one day I paid a Dirham (10 Cent) for one bread. Theresa the next day 10 Dirham; for the same product, at the same vendor.
Oranges sold in the souk
During the short stay in the seaside city we searched for our next stop on our journey. Since Tes was fired up for surfing, we compared some offers and booked a week in an all-inclusive surf camp near Taghazout. More about this in my next article.
Streetart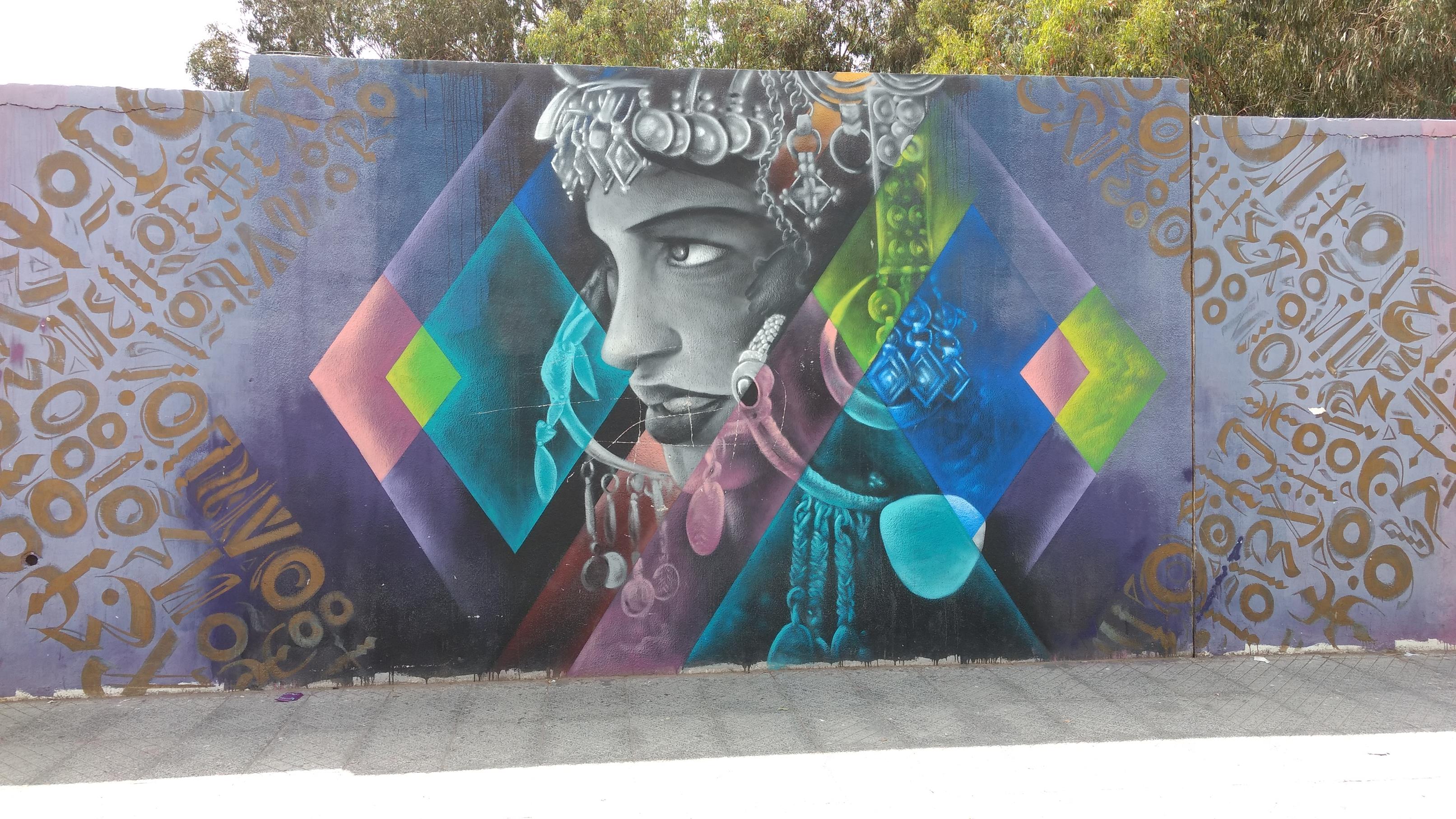 C-L