The capital – Die Hauptstadt
We arrived in Berlin via Flixbus and used public transportation to get to a friend´s apartment. He hosted us for four days and helped us with orientation and everything else we needed (Thanks Effe!). We visited the usual tourist highlights as the East Side Gallery, Alexanderplatz, the TV Tower and the Brandenburg Gate. In addition, of course, we checked out the Berlin Cathedral, the Reichstag and Checkpoint Charlie. In general, the German capital is a magnet for tourists. Every year, 31.000.000 overnight stays are booked in the countless hotels. Therefore, Berlin is the third most popular tourist destination in Europe, right after Paris and London.
The Berlin Dome
A visit froma bird
Berlin Dome and TV tower
The Brandenburg gate
The Reichstag building
Tes
Where the Wall was
Useless facts
There are a lot of unnecessary facts about Berlin – you don´t need to know, but probably will remember: The city by the famous river "Spree", for example, has nearly 500,000 registered foreigners from a total of 185 different nations. The population is about 3.5 million people. They eat about 950 doner kebab skewers (German Fast Food, Gyros in a flat bread) every day. Incidentally, about 70 million curry sausages are eaten every year. To transport the masses of people, the 1290 buses of the public transport network cover 300,000 kilometers daily. The city has about 1700 bridges (more than Venice!) and offers its residents  with 44% green areas countless opportunities for recreation. Every weekend 40-50,000 people celebrate in the clubs and in total there are about 1000 "Spaetis" (24/7 Shops) of which 70%  are Turkish owned. Moreover, only about every fourth Berlin resident has not emigrated to the town and finally: The "KaDeWe" is the largest department store in continental Europe.
A German wordplay – "pasting prohibited" to "living prohibited"
Street Art in Berlin
The East Side Gallery has a length of over 1300 meters and is considered the longest open air gallery in the world. In total, more than 100 artists painted the sections. In 2009, the paintings were restored, as weather, humans and pollution had destroyed the originals.
"You've learned what freedom means, never forget"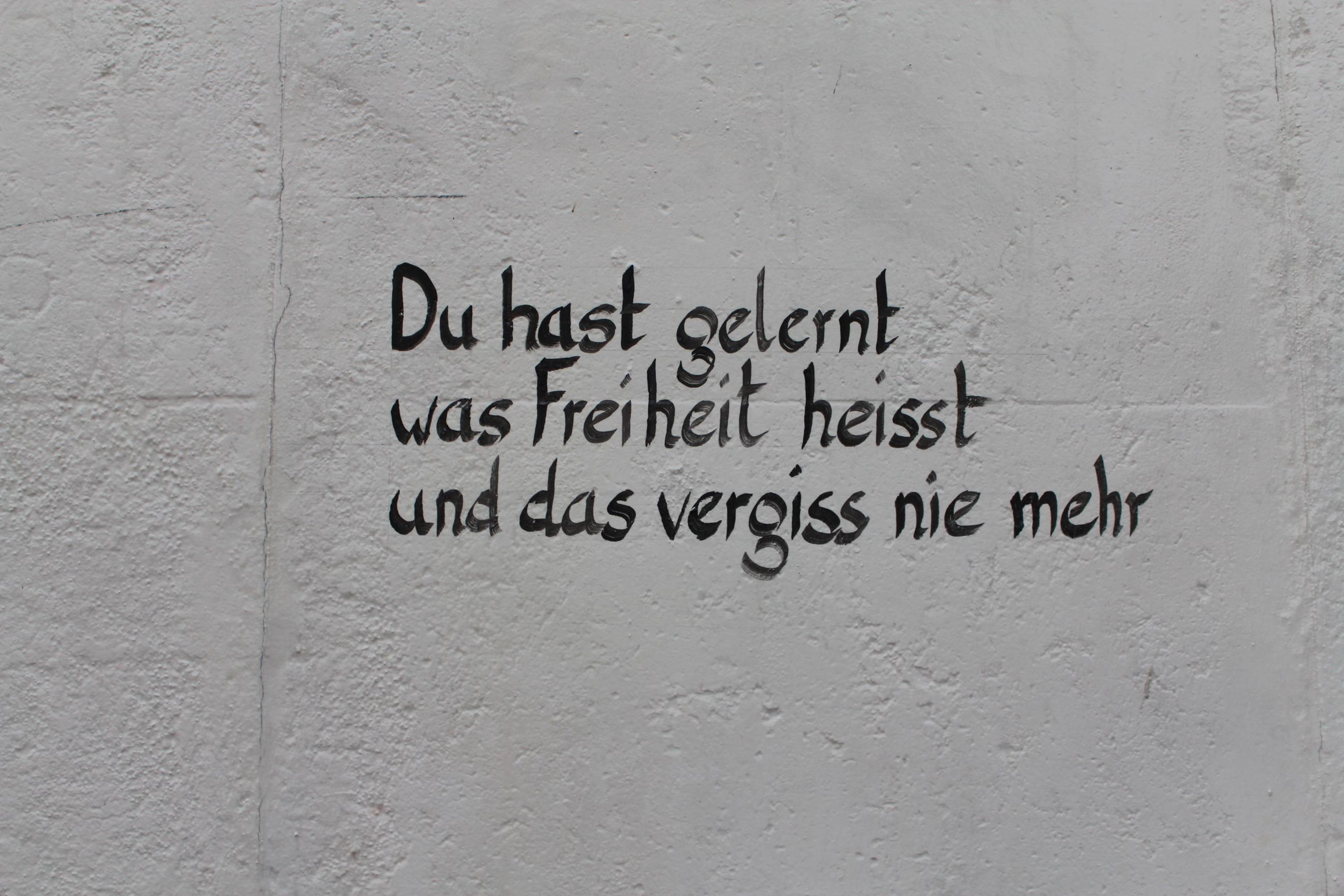 Somewhere in Berlin
In my next post, we are visiting Hamburg – one of my favorites on our journey and an awesome city!
C-L